Club kit will be available to order through the EWCC Kalas Shop, which will open when there is enough demand to make a bulk order. There are a few standard items at Bike Shed, Fore Street Exeter, but please TEXT Greg Rorke to check he's about on 07794 106357.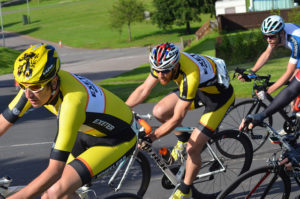 So that we can assess when to open the Kalas shop, you can indicate what items of club kit you are after here (NOTE – this is not the actual order form!):

Kalas items are priced in Euros, so will be subject to currency fluctuations, but short-sleeve jerseys are about £50, bibshorts £90 and skinsuits about £150, reflecting the good quality of the kit.
The Kalas brochure is available here
The Kalas sizing is rather idiosyncratic (i.e. odd, and the sizing chart has been known to be some way out for individuals!) so please make an appointment by text to see Greg in the Bike Shed (see above) to try on samples for sizing, as once paid for you won't be able to change or return your items.
Children's ranges are available in the catalogue.
OLD STOCK
We will be doing a stocktake of old stock in the Bike Shed shortly (including caps and old Endura items), and will put a list here when done, with clearance prices. The Paypal button below can be used for those items, but should not be used for the main new Kalas items, which MUST be done through the Kalas online shop: we will post a link when it's open.